September 30, 2021
SGI Earns Silver Louis Griesemer Sterling Safety Award From NSSGA
---
Image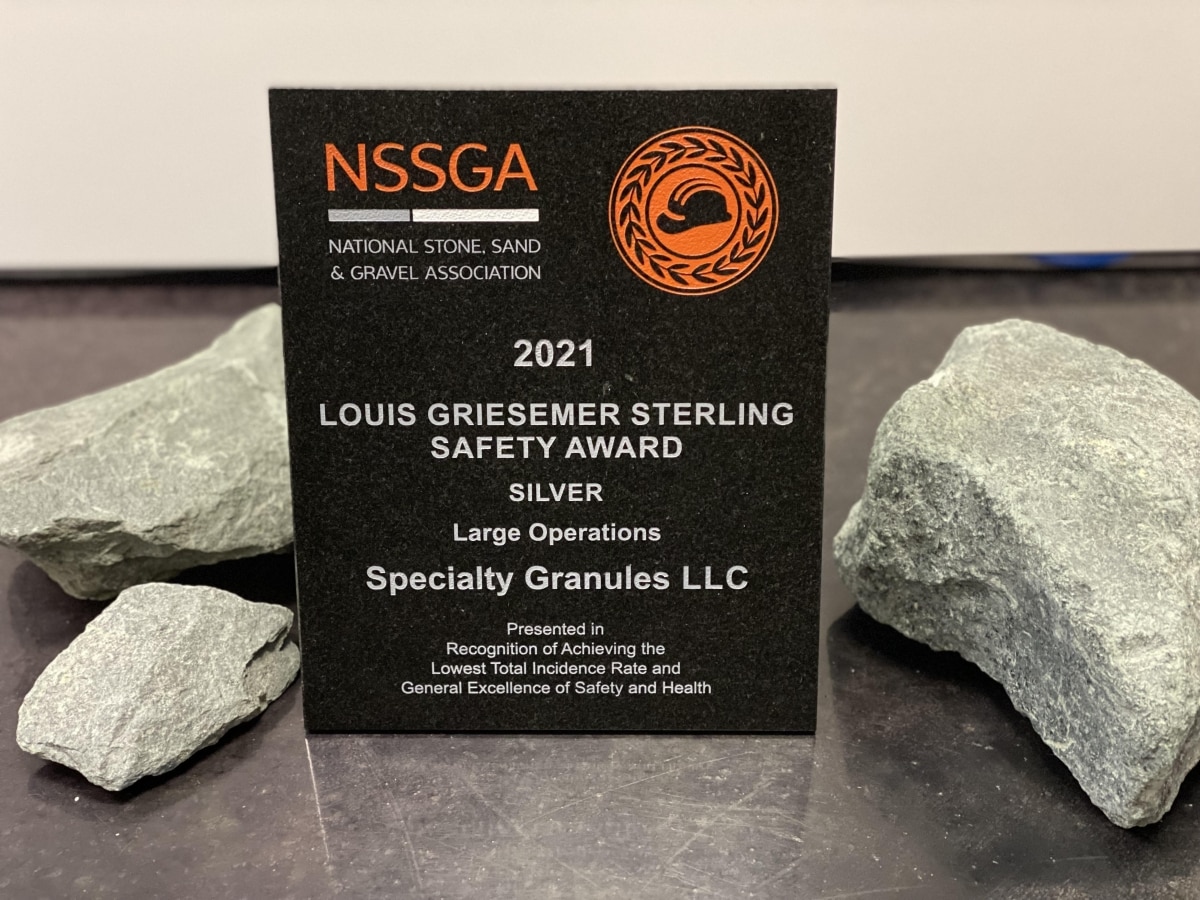 SGI, a leading manufacturer of high-quality roofing products, industrial minerals, and agriculture applications, has been recognized by the National Stone, Sand & Gravel Association (NSSGA) for excellence in safety.
On Monday, the NSSGA recognized SGI with a Silver Louis Griesemer Sterling Safety Award for the safe operations demonstrated at its five nationwide manufacturing operations, four of which are surface mines.
"We're proud to have our safety efforts recognized by NSSGA," said SGI President Justin P. Dunlap. "Safety — for our employees, neighbors, and the environment — is SGI's top priority. We provide extensive safety training to employees and work diligently to exceed safety protocols daily at all of our sites."
SGI operates surface mines in Annapolis, Missouri; Blue Ridge Summit, Pennsylvania; Ione, California; and Pembine, Wisconsin. Rocks are mined and used to manufacture products for roofing and construction.
Beyond its safety efforts, SGI's sustainability work has led to a number of impactful innovations in the field. Byproducts of the roofing and industrial minerals manufacturing process are being repurposed to produce agricultural applications, remineralizing soil, promoting healthy plants, and supporting increased crop yields. In addition, preliminary results of ongoing research with leading universities show that SGI's metabasalt-based agricultural products have the potential to sequester carbon from the atmosphere.
Dunlap noted that the recent safety award stems from the hard work and dedication of every SGI employee: "Without their dedicated adherence to safety every day, this award would not have been possible."
The award was announced during NSSGA's Legislative & Policy Forum and recognizes NSSGA member companies who have the lowest total accident incidence rates for the previous year. NSSGA reviews data from the Mining Safety and Health Administration (MSHA) to determine which member companies have the fewest MSHA-reportable injuries over a consecutive period.